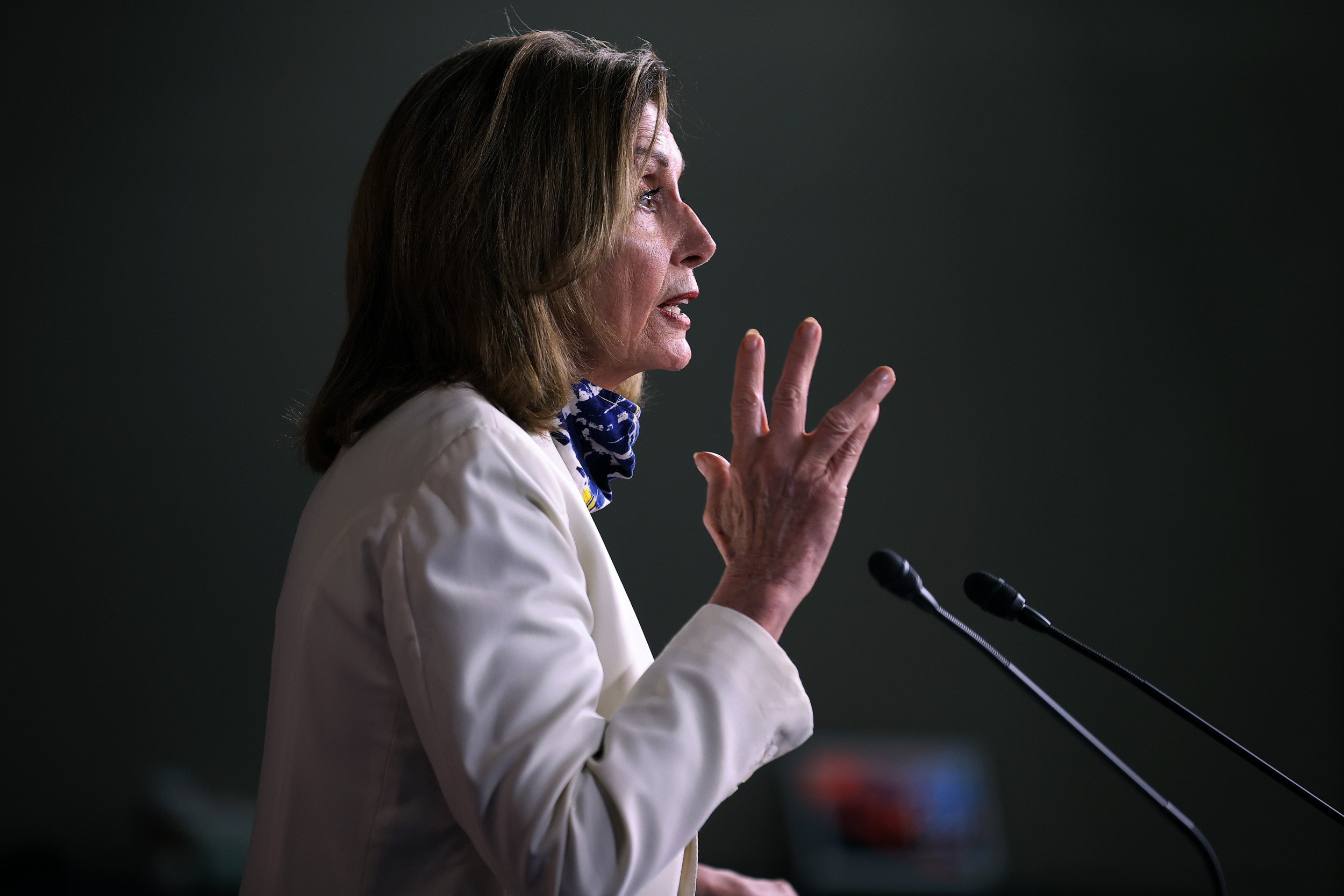 House Speaker Nancy Pelosi called President Donald Trump's White House "one of the most dangerous places in the U.S." during a television appearance Wednesday.
"I wouldn't go anywhere near the White House," the California Democrat said on ABC's The View. "It's one of the most dangerous places in the country both in terms of the assault that it makes on truth as well as health."
Pelosi's comments come amid at least 19 people in Trump's orbit testing positive for COVID-19 since Thursday, with the latest addition being senior White House adviser Stephen Miller on Tuesday.
Trump himself tested positive last week, announcing the diagnosis via tweet early Friday morning. The president was hospitalized hours later at the Walter Reed National Medical Center, where concern for the true severity of his condition grew.
But Trump walked out of the hospital Monday evening, removing his face covering for a photo opportunity on the White House balcony. "Don't be afraid of Covid. Don't let it dominate your life," Trump had written earlier in a heavily-criticized tweet.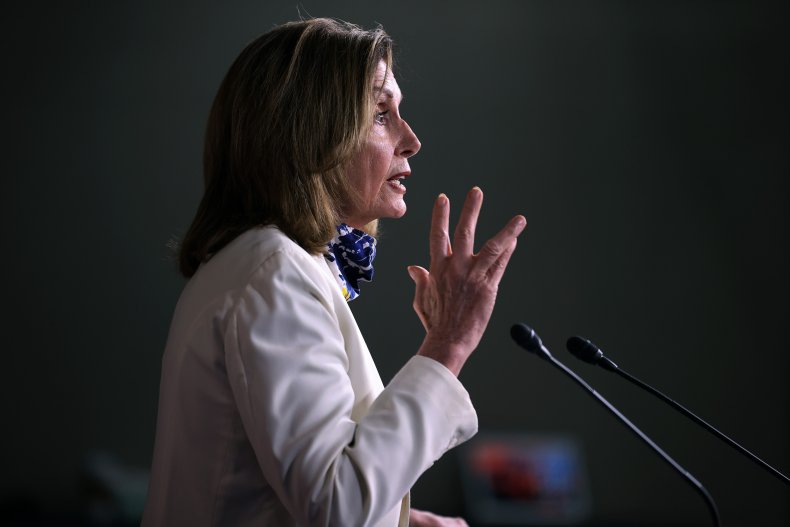 Speaker of the House Nancy Pelosi (D-CA) talks to reporters during her weekly news conference in the House Visitors Center at the U.S. Capitol on October 01, 2020 in Washington, DC. Pelosi called President Donald Trump's White House "one of the most dangerous places in the U.S." during a television appearance on October 7. Chip Somodevilla/Getty
During her ABC appearance Wednesday, Pelosi also took aim at Trump for his apparent reversal of course on negotiating the next coronavirus stimulus package, which Americans anxiously awaited since he signed the first bill into law in March.
"Move Fast, I Am Waiting To Sign! @SpeakerPelosi" Trump wrote Wednesday morning in a quote-tweet of his own earlier tweet Tuesday night.
Trump taunted Pelosi repeatedly in a series of tweets Tuesday, asserting that the speaker "is not negotiating in good faith." Pelosi wants a stimulus package totaling $2.4 trillion, Trump wrote, and rejected the White House's "very generous offer" of a $1.6 trillion bill.
House Democrats narrowly passed their own $2.2 trillion stimulus bill on October 1 as negotiations between Pelosi, Republicans and Treasury Secretary Steven Mnuchin stalled.
Trump revealed Tuesday he had instructed his representatives "to stop negotiating until after the election when, immediately after I win, we will pass a major Stimulus Bill that focuses on hardworking Americans and Small Businesses."
But the president reversed course hours later, tweeting that the "House & Senate should IMMEDIATELY Approve 25 Billion Dollars for Airline Payroll Support, & 135 Billion Dollars for Paycheck Protection Program for Small Business," writing he would "sign now."
"If I am sent a Stand Alone Bill for Stimulus Checks ($1,200), they will go out to our great people IMMEDIATELY. I am ready to sign right now. Are you listening Nancy?" Trump tweeted again, tagging the Twitter accounts of White House Chief of Staff Mark Meadows, Senate Majority Leader Mitch McConnell, House Minority Leader Kevin McCarthy, Senate Minority Leader Chuck Schumer and Pelosi.
Speaking on The View Wednesday, Pelosi called Trump's change of heart a rebound from "a terrible mistake he made yesterday."
"It's hard to see any clear sane path on what he's doing but the fact is, he saw the political downside of his statement of walking away from the negotiations," she said.
"But I will say this, it is really important for us to come to this agreement. When the president just popped off and made that announcement without even informing us that that was the case, he insulted the Constitution of the United States."
Pelosi echoed comments made Tuesday by Democratic presidential nominee Joe Biden, who posted a GIF of him saying "get off Twitter" after Trump tweeted more than 40 times in the span of two hours.
The medications Trump is currently taking as part of his coronavirus treatment regimen could be affecting his thinking, Pelosi said.
"I said yesterday to my colleagues, I said there are those who say that the steroids had an impact on people's thinking, I don't know, but there are those health care providers who say that," she said. "Also, if you have the coronavirus, it has an impact, as well. So the combination is something that should be viewed."
Newsweek contacted the White House for comment, but did not hear back in time for publication.