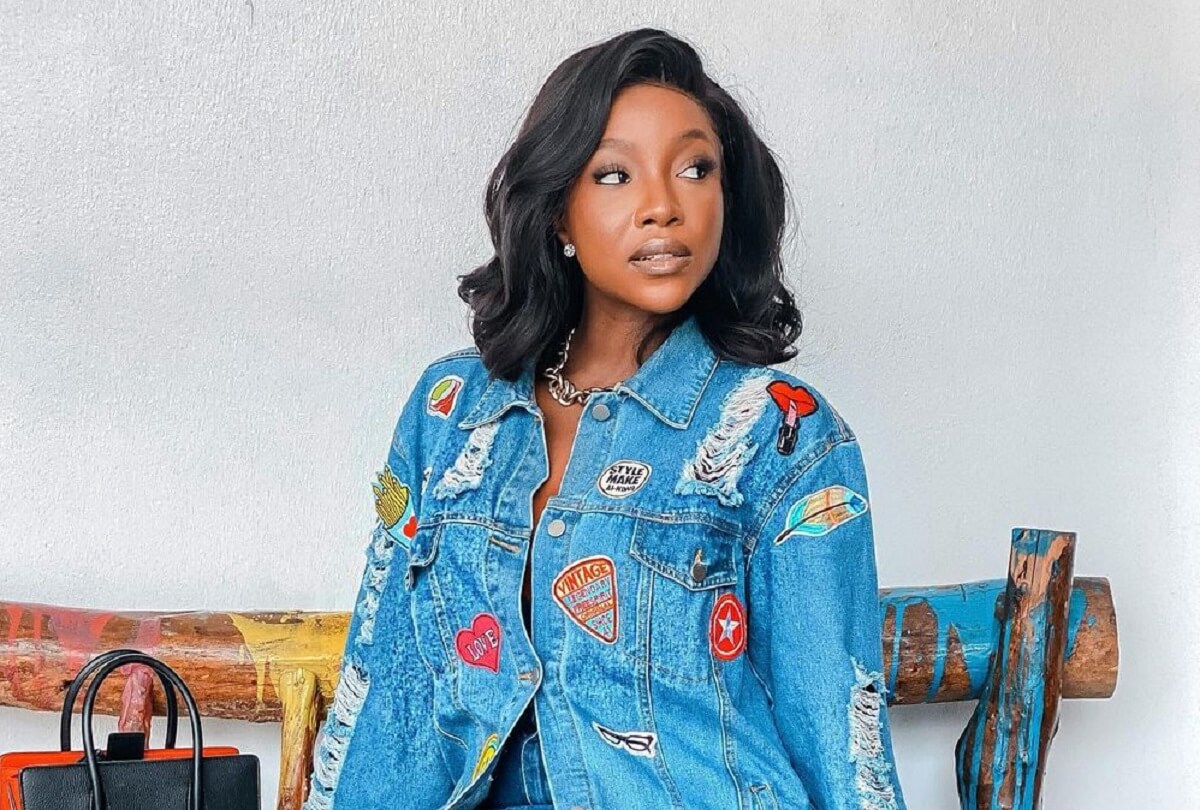 Written by Mercy Olatunji
Who is Ini Dima-Okojie?
Ini Dima-Okojie is a Nigerian actress born on the 24th of June 1990 into a family of four. Ini Dima is the last of her siblings. An Edo indigene, Ini Dima grew up in Lagos and had most of her education in the city. According to her, she had a fun-filled childhood but was also quite reserved and shy.
Full data profile of Nigerian actress Ini Dima-Okojie:
| | |
| --- | --- |
| Full name | Ini Dima-Okojie |
| Age | 30 years old |
| Birthday | June 24, 1990 |
| Gender | Female |
| State of origin | Edo State |
| Parents | Unknown |
| Height | 5″5 |
| Marital Status | Single |
| Tribe | Edo |
| Career | Actress |
Ini Dima-Okojie's childhood and education 
Ini Dima comes from a background of professionals; she was raised by her medical doctor father and her mom who was a banker, both of which are devoted Catholics. She attended Air Force Comprehensive Secondary School in Ibadan Nigeria, after which she attended Covenant University where she earned a degree in International Relations, also in Nigeria. After graduation, she had her NYSC with the Department of Petroleum Resources. Thereafter, she went and studied acting at the New York Film Academy and also attended the "Become a Host" boot camp in Los Angeles. This was after a failed application to attend the Film Academy in Dubai.
Ini Dima-Okojie's acting career
Ini Dima-Okojie worked as an investment banker in Cardinal Supreme Partners firm for nearly two years until she took a big leap and quit her job and started an acting career. Her very first work in the Nigerian film industry was as a production assistant with a production called "Before Thirty", which was being produced by a cousin. After several auditions, she landed the role of Feyisayo Pepple, one of the lead actors in the series "Taste of Love", a telenovela love series that tells an intriguing story about two love birds – "Hadiza" and "Kelechi" – the children of two rival sugarcane-growing families who are separated by their families' past and will have to overcome countless obstacles to truly be together.
However, Ini Dima-Okojie's break-out role was as Hadiza in the movie "North East" which sparked her ascent to the top as film and TV girl. Her next lead role was a character in the 2016 Romantic Comedy "It's Her Day". She is a major cast member on the popular Africa Magic TV series, Battleground as Teniola Bhadmus.
Ini Dima-Okojie has also featured in the TV series: 5IVE, EbonyLife TV Series – On the Real, Desperate Housewives Africa, Ndani TV's Skinny Girl in Transit, among others. She also featured in the EbonyLife romantic comedy, The Royal Hibiscus Hotel that premiered at the Toronto International Film Festival in 2016.
Ini Dima-Okojie
List of Ini Dima-Okojie's movies
Taste of Love – Feyisayo (2014)
Skinny Girl in Transit – Hadiza (2015-present)
Desperate Housewives Africa – Orode (2014 -2015)
It's Her Day – Nicole Hernandez (2016)
North East – Hadiza (2016)
The Royal Hibiscus Hotel – Joyce (2018)
A Bone to Pick – Alicia (2016)
Vanity Last Game – Tamara (2014)
Battleground – Teni Bhadmus (2017 – present)
5IVE – Dami (2017)
Sylvia – Gbemi Ogunlana (2018)
Funke! – Ms. Cathrine (2018)
Oga! Pastor – Laitan Gesinde (2019)
Kpali – Amaka (2019)
Her Excellency – Mimi (2019)
Namaste Wahala – (2020)
Ini Dima-Okojie's awards
Ini Dima-Okojie has been nominated for several awards including:
The Future Awards Africa Nigeria Prize for Acting
Nigeria Entertainment Award for Best Supporting Actress in the movie, North East
City People Movie Award for Most Promising Actress of the Year (English), etc.
Ini Dima-Okojie's marriage and husband
Ini Dima-Okojie is not yet married and has not revealed any man as her boyfriend. Ini Dima prefers to keep her love life and romantic engagements private.
Ini Dima-Okojie has not been previously engaged, although, there are speculations that she might have had at least one relationship in the past.
Describing her ideal man, the Edo State actress said: "My ideal man must be someone that is kind, God-fearing, understanding and most importantly, someone that communicates. These are traits that stand out for me."
Ini Dima-Okojie's relationship with Falz
There are unconfirmed reports that Ini Dima-Okojie and Nigerian musician Falz are dating. The rumours probably started when Falz mentioned Ini Dima as one of the three celebrities he wishes to have oral sex with during an Instagram live session.seemed to intensify relationship rumours. The two have also been seen in several loved-up photos on Instagram.
Ini Dima-Okojie's net worth
Ini Dima-Okojie's exact net worth is currently not known.  An estimate of Ini Dima-Okojie's current net worth based on calculated earnings from her income sources puts it at around $150, 000 (N55 million naira).
Other facts to know about Nigerian actress Ini Dima-Okojie
Ini Dima-Okojie revealed she has a huge crush on popular Australian Actor, Chris Hemsworth, who is best known for his roles as Kim Hyde in the Australian TV series, "Home and Away" and as Thor in the Marvel Cinematic Universe films, "Thor" and "The Avengers".
Ini Dima-Okojie has always loved everything creative right from childhood and she has had an interest in Arts more than anything else.
Her passion and hobbies included acting, modelling, fashion and even singing. Ini Dima is looking forward to her path as a globally recognized actor and is optimistic about the future and the amazing opportunities to come her way.
Ini Dima-Okojie on Instagram and Twitter
Ini Dima-Okojie is active on Instagram as @inidimaokojie.
Ini Dima-Okojie is active on Twitter as @inidimaokojie.